So my business cards are finally ordered and en route to being in my wallet. What a relief—I'm no star, but one never knows when someone might ask for a card (as I learned at LTUE).
So I wanted my card to stand out a little, to trigger something in the holder that would help them remember me. So my graphic designer friend Brooke and I sat down and brainstormed what was memorable about me that you could put in print. We didn't come up with many ideas.
Except one.
.
.
.
.
.
(The annoying dots are for suspense.)
.
.
.
.
.
.
.
.
.
.
.
.
.
(Card Front)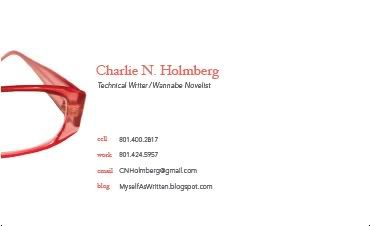 (Card back)
Brooke took a few snapshots of my pink glasses and shimmied them onto this AMAZING card, which she also did the layout for. I love it. (I also love pink, if you can't tell.) It looks way nicer than the crap I had drawn up in PowerPoint. :D
Hopefully I'll have 200 of these suckers in a week.
(If you're going to alpha read my equist story for me, don't read today's excerpt!)
Spoiler excerpt of the day:
The memories haunted her. Visions of blood and torture filled her dreams; nightmares of running into battle with a new sword, one with no trace of experience. Recurring thoughts of Lign—his smell, his smile, the night outside the camp. Watching him die over and over, so simply. Each time she stood too far away to save him. In her dreams, she never ran fast enough.
Equist story