I am ecstatic to have Caitlyn McFarland on the blog today! Caitlyn and I met because we both signed with our agent, Marlene Stringer, within a year of each other. I moved back to Utah, we met, and now we're basically soul mates.
Caitlyn is an amazing writer, especially when it comes to romantic tension. I haven't written fan-fiction in years, but I am SO tempted to write some based off her
Dragonsworn series
(Carina Press). I really am obsessed with them. So hard. (I really love her books so much that I'm about to break my no-cowriting rule and create a magnificent beast of fiction with her.)
ANYWAY. I bombed Caitlyn with questions and she's sharing the love by giving away the first two ebooks of the series:
Soul of Smoke
and
Shadow of Flame
. The third book,
Truth of Embers
, comes out in December (just in time for Christmas).
~*~
Where did you get the ideas for your dragons and the different magic they use?
So, there are ten dragon clans in the Dragonsworn world and each clan has their own magic. When I started Soul of Smoke, I actually only had the Elemental dragons. Then I realized that was stupid, because there are dragon legends from all over the world. Of course dragons would be from everywhere. Because of the limited scope of the story, I could never go as in-depth as I really wanted, but I tried to look at dragon mythology from different parts of the world and give the dragons from those places powers that were related to their legends. I ran into a problem, though, when I found out that almost all non-Western dragons are associated with water, and many of them don't have magic, only poison. A lot of the clans ended up with powers that only related to their originating mythology in a very tangential way, or not at all.
What is your favorite love story?
Um... all of them? LOL. I'm a fan of every romance from Shakespeare to Austen to Nora Roberts to
authors with romance-heavy YA fantasy like Laini Taylor and Marissa Meyer. My ideal love story would probably combine the forbidden love aspect of Romeo and Juliet with the banter/wit of Beatrice and Benedick in Much Ado About Nothing.
No one steal that. I'm going to write it.
If you had to pick a pop song written in the last ten years as your theme song, what would it be?
My theme song changes depending on my mood. Sometimes I'm "Shake It Off" by Taylor Swift and sometimes I'm "Demons" or "Radioactive" by Imagine Dragons. Every once in a while I'm "Moonlight Sonata," but only under ideal circumstances. Usually I trip over things too often to be classical. For a year in college I was "Blank Space" by Taylor Swift. Those were interesting times.
If you had to write a fanfiction of your own series, what would it be about?
I've actually started a couple of short stories about what Cadoc gets up to in the weeks between Soul of Smoke and Shadow of Flame. I'd also really like to write Griffith and Ffion's love story. Someday I probably will. I feel like I owe them because REASONS.
If you and your protagonist, Kai, switched places, how different would the story be?
Ha! There would be no story. At the beginning of the first book, Kai saves Rhys from an attack by another dragon. When it comes to fight or flight, my reaction is "freeze." I would have been eaten and we'd all be dead. The end.
How do you handle the fact that your books are emotionally destroying me?
Well, you know...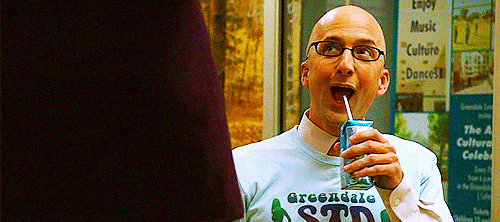 I love you, Charlie.
What is your favorite movie and least favorite movie of the last year, and why?
The only movie from this year I can remember seeing at this moment is Inside Out. I'm going to be honest, I've spent most of 2015 watching all nine seasons of Supernatural that are on Netflix. Now I'm waiting for season 10. They're all favorite. Also I finished Parks and Rec. It's favorite, too. Least favorite... hm... I don't know. I fill my brain with things I like and forget about the things I don't.
Is there a particular author that you look up to?
I look up to J.K. Rowling. I mean, yeah, she's crazy successful, but in my opinion she's also really good. I've read Harry Potter (several times) and the mysteries she writes as Robert Gailbraith. It's astounding to me how different those stories are. She's so good at establishing tone. Aside from that, the continuity in the HP books is insane, and that's much harder to pull off than I think readers understand. But now that I'm thinking about it, if I could have awesomeness equivalent to any other author out there, I'd choose Maggie Stiefvater. Not only is she insanely intelligent and insightful, she's a gifted artist and such a talented author. The Scorpio Races is probably in my top three favorite books of all time.
Tell us a secret talent of yours that isn't writing-related.
I like to sew overly complicated Halloween costumes for my daughters. Here are the ones from last year:
The Merida costume was reused from two years before, but those Frozen costumes took me A LOT of time. So much time I was too lazy to carve the pumpkins, as you can see. Also, I like to sing Broadway music. Sometimes I sketch Very Bad Art.
Where do you draw your crazy romance-writing skills from?
If I have any skills, it would have to be from a lifetime of reading/watching every romance I can get my hands on. More than that, I just seriously love the idea of people falling in love—and not just falling in love, but finding something they lack in the other person and becoming better because of each other. Also, I have to say that recently I've learned a lot about how to structure a romance from my editors, Libby Murphy and Angela James.
What's next on the horizon, writing-wise?

Right now I'm finishing edits on TRUTH OF EMBERS, the final book of the Dragonsworn trilogy, and I am SO excited about it. I've been waiting to write some of those scenes for years. After that, I'm working on a project I'm calling TRAVELER (the title will change). It's along the lines of the Dragonsworn books in that it's a contemporary-ish fantasy about a girl in college who finds herself sucked into something magical, but this is more along the lines of an enchanted forest/portal fantasy with a twist. I drafted the story back in 2013 and I'm really excited to be able to visit that world again. After that, I kind of want to get into YA.
GIVEAWAY
Caitlyn is hosting a giveaway on Twitter for
Soul of Smoke
and
Shadow of Flame
! Retweet the tweet linked
HERE
to enter. You can get an additional entry by commenting on this post (or the first entry if you don't have Twitter).
About Caitlyn
Originally from the Midwest, Caitlyn McFarland currently lives in Utah with her husband and three young daughters. She has a Bachelor's degree in linguistics from Brigham Young University. When she's not writing about dragons or running around after her daughters, she can be found hunched over a sewing machine making elaborate princess costumes.
Want more Caitlyn? (Of course you do)
Goodreads