I'm super excited for today's post! I've had the privilege of interviewing authors Michael Eging and Steve Arnold, who have just released their first novel,
Annwyn's Blood
(PALADIN OF SHADOW #1). Despite day jobs and saturated markets, these two family-men show what aspiring authors can accomplish when they refuse to give up.
Tell me a little about yourself.
Steve Arnold and his family
Steve:
Big question. How much detail do you want? I'm middle aged and have seven kids. My wife and I go to church regularly, worry about our family and the future of this country. I worked a lot of years in factories before I got fed up with it and went back to college. I've wanted to be a writer since I was a kid, haven't sold anything before Annwyn's Blood, but then I wasn't really trying. My real artistic bent is in drawing, but I never seriously thought about a career as an artist because it's too uncertain to support a family on. I've been enlisted in the Army and an officer in the Navy and am happy to be settling into my new job back home in Ohio (just got out of the military this past summer).
Mike:
We currently live and work in the Washington, DC area. I work in the policy arena, having many years ago begun my career with Senator Hatch while attending graduate school at the University of Maryland. I have five children, two dogs and two guinea pigs!
I've been writing screenplays for the past few years. My first option was a script entitled Song of Roland.
When did you start writing?
Steve:
I guess you could say I started writing in some sense when I was about twelve. I was the Dungeon Master of our little group (and Mike was my first player) and wrote up dungeons with backstories and histories.
Mike:
When I was in 6th grade, I began to jot down stories and illustrations in a notebook. I've been writing ever since—and still have the old beat up notebooks!
Tell me about ANNWYN'S BLOOD.
Mike:
Annwyn's Blood is a journey of discovery and redemption. While Erik, the young knight who reluctantly embarks on a quest to save his soul, seems the most likely in need of redemption, all the characters of the story will struggle and grow through the story arc that will encompass the shores of Briton to the City of Constantinople and realms beyond this world. I do believe that Aldonzo, the prince from Southern Gaul, will provide some of the biggest surprises of the series. So stay tuned!
Steve:
Basically it's a Dark Ages vampire story, but you'd probably be better off seeing the blurb: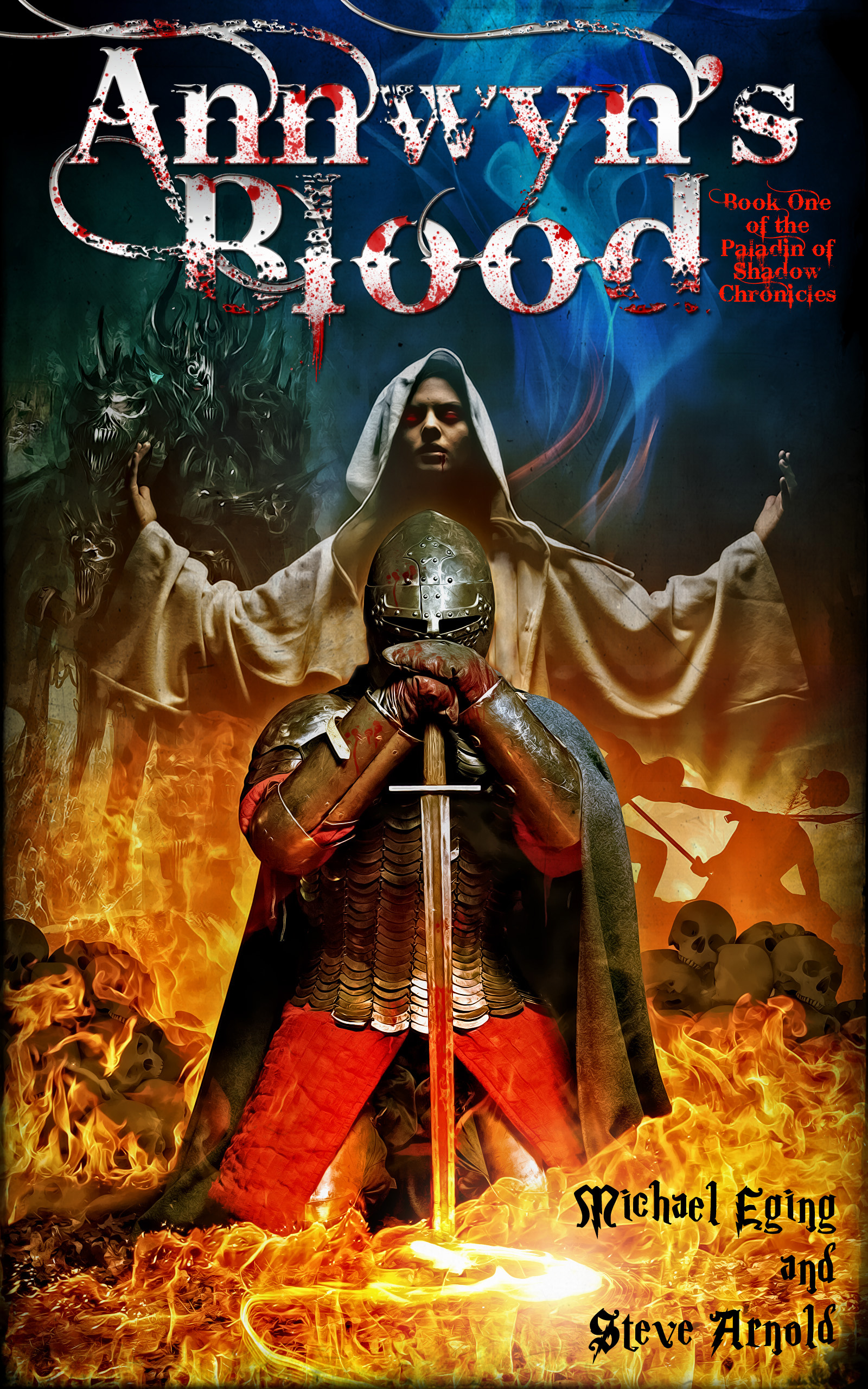 Cover
When Marianna was spirited away by unknown raiders, everyone expected a ransom demand to soon follow. Such was the peril of everyday royal life in the chaotic times following abandonment of the misty isles of Albion by indifferent Rome. But when weeks went by without word her father, High King Mattheus, dispatched teams of trusted warriors to find her and bring her assailants to account.
Young Erik, Scion of the House of Birkenshire, was one of these. Separated from his comrades and alone in hostile territories, he plunged headlong into forgotten vales and desolate coasts in pursuit, driven onward by precious memories of stolen tender moments. Then he stood before the grim fortress – wherein he found, not the innocent damsel of his youthful desires, but a terrifying beauty borne of an ancient evil that bound his soul to an even more primal force bent on regaining its place in the halls of human exaltation.
Now caught between two worlds, he must resist the temptations of his beloved-turned-succubus while protecting his family, his people and his world from the encroaching grasp of Arawn, Lord of Annwyn, Ruler of the Dead, Elder God of the Mabinogion. In this journey to regain his soul, the knight must find a way to strike the fatal blow against a resurgent primal darkness.
Where did the idea for Annwyn's Blood come from, and how long did it take to finish?
Mike:
Well, it started with an assignment in a creative writing class at BYU during the fall of 1985. Doc Smith gave the class an assignment to write a short story that focused on setting. The chapter one, Dark Knight, was the result of that class. Steve and I took up sketching out and writing a novel that integrated that story as a chapter sometime in 1990.
Steve:
Mike has always been more of a writer than me. I like to draw more than anything, so I'm not really sure how this all came about. About 25 years ago Mike wrote a short story about a knight saving a damsel in distress. It was inspired by some trouble he felt he was having with his (then) fiancee's ex-boyfriend. (Yes, they ended up getting married and have been ever since). A few years later (I forget exactly when, I guess it would be around 1990) he pulled this story out of his pile and decided he wanted to make a full-length book out of it, but had no idea what to do with it. He sent it to me and asked me to take a stab at it. I've no idea why he thought I would be of any help, because, like I said, he was the writer, I was the artist.
Anyway, I thought about it, came up with a very raw idea and wrote a couple chapters and sent them back. He loved it, said it opened up a whole range of possibilities, and off we went. His original story is pretty well preserved in Chapter Four, and the two I wrote are chapters Two and Three. It took about five years to finish the whole book because we were taking care of life, raising kids, and so forth.
Mike:
We actually produced a draft of the novel somewhere around 1993 and shopped it around. The feedback at the time was, wow—we like your writing, but not so sure a vampire story is the way to go. Send us your next novel!
What was it like working with a co-author? What benefits and challenges arose during the writing and editing process?
Steve (left) and Michael (right) collaborating
Steve:
I have found it extremely useful to work with Mike. I really don't think I could do this on my own. Whenever I get stuck on a plot element, story arc, motivation, or whatever, he always has fresh ideas that get things moving again. Of course, sometimes we don't agree on things and there's a good bit of discussion that follows, but I think we always come out with a better product at the end because we have to think that much harder about what we're doing and why.
Mike:
I write by myself and with a partner. Each is very different. What I like the best is that I can call Steve, and we can bounce ideas off of each other for hours. Some of our discussions range from Dark Ages Albion to worlds light years from Earth. We have known each other since the sixth grade. So when challenges come up, we can work through them and usually find something we didn't anticipate on the other side, from a creative perspective. Also, Steve brings a much more analytical perspective to our work. I like to see how he puts the pieces of the puzzle together when my continual brainstorming creates more questions than answers (sometimes)!
What made you decide to self-publish?
Mike:
Annwyn's Blood remained on a hard drive as we continued writing. We just completed a feature film script entitled The Feast of St. Nicholas. We found the old manuscript taking up space and thought it would be terrific to get that work in readers' hands while we continue to focus on other projects. We already have the outlines for books two and three in the series, so in the world of e-readers, it gives us a chance to share a something that we spent so much time creating and would love to revisit in the sequels.
Steve:
Once we finished the book we tried to find an agent and get it published by the traditional route, and it just wasn't going anywhere. The project sat on our shelves for most of the last fifteen or twenty years until with the explosion of online publishing, print-on-demand, and so forth. Mike pulled it off the pile again, dusted it off, and suggested we go this route.
What has been your inspiration for writing?
Steve:
As far as why, I guess you could say a love of the game. I always liked to read and naturally wanted to emulate my favorite writers. Plus I was always picking apart plots (maybe I should have been a critic?) As far as content, at first it was simply adventure. I wanted to break out of the quiet country/modern life and experience the worlds of Conan, John Carter, and so forth. Now that I'm older, I find inspiration in the struggles I see people around me facing, and what I can see are solutions to those struggles.
Michael Eging
Mike:
When I was young, my father introduced me to heroic fantasy. I read the covers off the John Carter of Mars series, anything by Michael Moorcock, and over time decided I wanted to be like them. When I was attending school at BYU, I had the opportunity to spend an afternoon with Alan Dean Foster. As I shuttled him to events and drove him around Provo in my old 66 Mustang, I was totally awestruck by his personality, his understanding of the world, and his willingness to share that with me. That and he had just published Maori, which was an incredible journey through New Zealand of the 19th century. I know it sounds cliché, but I wanted to be like him. However, as I've journeyed through life, I also find I write more because it keeps me sane and I have stories rummaging through my brain that I feel just need told.
What advice can you offer to unpublished authors, or those considering self-publishing?
Steve:
Stick with it. Write whatever and don't lock yourself into a particular format unless you have a natural bent for it. Sooner or later something will break for you.
Mike:
Be aware that your work will be part of the deluge of newly empowered writers flooding the channels. Find ways to stand out. We have been fortunate to have a social media expert working with us. She is navigating the sea of voices to help us find our audience.
Where can we find your book?
Check out the Facebook Page for additional announcements, or find Michael and Steve on Twitter at @MichaelEging and @StevnJamsArnold.
Steve and Michael are giving away a free e-copy of Annwyn's Blood to a random commenter! Please leave your email with your comment to enter (so I don't have to track you down, and yes, I will!).